Randy Lane was born and raised in Edison, Ga. He attended Albany State University in 2012 where he received a Bachelor of Science degree in Chemistry. While at Albany State University, he received a nomination for the Golden Key Society. During his academic tenure, he published two research papers in the area of breast cancer which resulted in him receiving the Student American Chemist Society Award.
Randy then attended the Physician Assistant program at South Alabama University where he graduated Magna Cum Laude in 2014. After graduation, Randy moved back home and began his Physician Assistant career at Georgia Sports Medicine of Tifton, Ga, specializing in spine surgery as well as general orthopedics.
After 3 years at Georgia Sports Medicine of Tifton, another orthopedic opportunity then arose for Randy which was much closer to home at Musculoskeletal Associates. He worked in the area of spine surgery and general orthopedics for another few years until coming to Southern Spine and Health in July 2020 where he continues to provide urgent care for the patients of this community.
Randy is a member of the National Commission on Certification of Physician Assistants and the Georgia Association of Physician Assistants. Randy has a daughter who is currently enrolled at the University of Georgia in the Spring. He currently helps his father raise cows and loves to hunt and fish in his spare time.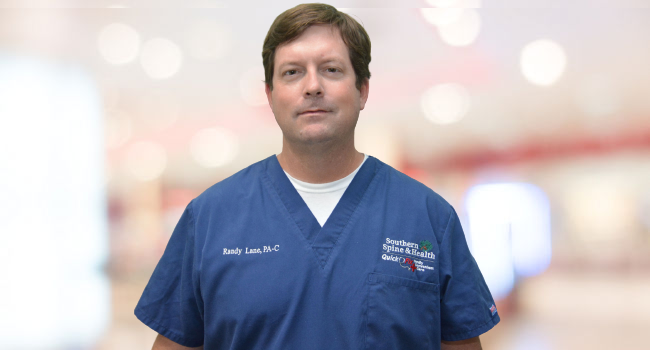 BETTER HEALTHCARE FOR YOU IS OUR MISSION ... EVERY DAY!
Southern Spine and Health of Albany
2601 Stuart Avenue, Albany, GA 31707
(229) 405-8900
Southern Spine and Health of Americus
(Personal Injury Center)
BY APPOINTMENT ONLY
205 S Lee St, Americus, GA 31709
(229) 405-8900
QuickFix Family Convenient Care of Albany
2601 Stuart Avenue #100, Albany, GA 31707
(229) 405-8900